What GCON4 covers
GCON4 offers 4 groups of comprehensive and reliable support services ranging from requirements management, issues management, system training and updates of Unit4 Business World. Our highly-competent team of consultants help you to effectively run and maximize the performance of your ERP system with a peace of mind.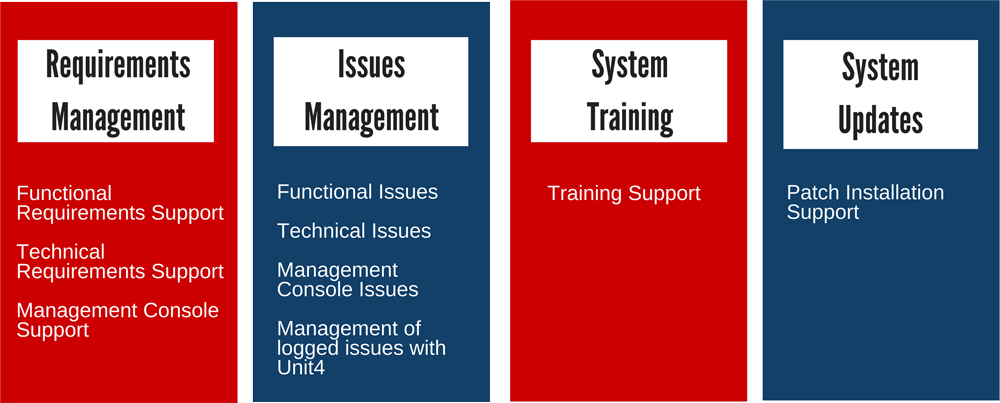 What are the benefits?
By outsourcing your support to GCON4 team of experienced consultants, you will immediately enjoy numerous benefits such as:
Reduced overhead costs
No more locking of internal resources for consistent support around the clock. Allows businesses to assign resources more effectively and efficiently, improving productivity.
Focus on your core business
No more worrying about the absence and outdated knowledge of your internal support team. GCON4 helps to provide constant, efficient, reliable support and training so you could focus on your core business.
Improved service levels
Gaining focus on your core business and effective deployment of resources helps to improve your service level to clients.
Stay updated with latest version of Unit4 Business World
GCON4 helps to ensure that you are running on the latest version of the ERP system.
Why partner with GCON4?
Global Official Partner of Unit4
Highly competent consulting team with more than 30 years of accumulated experience
Multi-languages ready: English and Spanish
Global implementation projects and clients
Proven implementation and support methodology
Innovator of Unit4 Business World add-on tool – GCON4 MFL
Find out more
Whatever your support needs are, GCON4 is happy to help. Contact us today for a no-obligations discussion.