Travel & Expenses
Unit4 Travel & Expenses is a software designed to make the travel and expenses process a much better experience for both the business and employees.
Solution advantages
Simplify and reduces expenses management, finance and payroll work
Potential savings in expenses management of more than 50%
Helps enforce expenses policies
Enables expenses management 'on the go'
Clear overview of non-conformities and key figures using role-based dashboards
Reduces risks with policy enforcement controls
More efficient control and filing of expenses reports
Available anytime, anywhere on your smartphones
Seamless integration with Unit4 Business World and Unit4 Financials to maintain complete financial visibility
Functionalities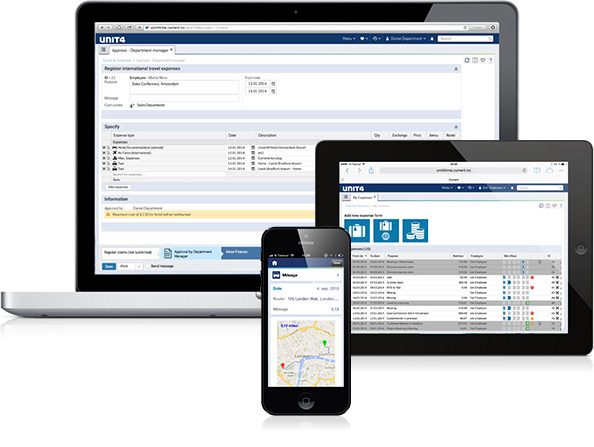 Capture your expenses instantly
With the mobile app, you can now capture photography receipts, food bills and tag items while traveling and sync-ed images are archived securely. Introduce any expenses (maintenance, parking, tolls, taxis, etc) and mileage, integrating with an interactive map solution with route calculation. Unit4 Travel & Expenses also allows the Expense Manager to review and approve/reject the expenses anytime anywhere, greatly reducing the processing and repayment time.
Integrate your card information
Automatically incorporate and display the information of all expenses incurred to your corporate card when you access the mobile application. All you need to do is to attach the digitized receipts.
Authorizes in accordance with your organization
Unit4 Travel & Expenses integrates the trip approval process with the approval flow defined by the organization. This process can also be used internally to make requests for flights, trains, hotels etc. You can even pass the information to a travel agency.
Enters your expenses with agility
Allows you to configure the interface for quick entry of information according to the role of each user, the type of trip and expenses to be settled. Users can enter applications 30-40% faster than conventional displays. In addition, the system alerts you if data is missing or have been entered erroneously.
Control your company's travel policy
With Unit4 Travel & Expenses, you can configure your company's spending policies flexibly, setting limits on the type of expense and user, cascade approval processes, policy violations alerts, blockages or warnings and approval flows appropriate to the organizational structure.
Examine your real expenses by cost centers
Allocate costs to cost centers and projects etc. Depending on the analysis that you want to perform for each dimension and automates the analytical accounting processes. It configures approval flows based on these dimensions such as project approvals.
Integrate information with back office solutions
Unit4 Travel & Expenses easily links to Unit4 solutions but can also be integrated with any external solution to automate the accounting and payment processes and to update employee, currency and project information, etc.
Gives flexibility to any operating complexity
Unit4 Travel & Expenses supports any type of expenses and approval flows. The solution configures the interface with flexibility so that only items (advances, currency, mileage, maintenance, expenses, invitations) desired by user are displayed. You can define as many as approval flows required by your organization.
Analyzes all information
Examines and studies all pending expenditures and requests. With Unit4 Travel & Expenses, you can generate multiple reports based on dynamic tables so that users can make use of them without any technical support. In addition, the Finance department has search tools, audit aids and specific reports. All reports are configurable, selecting fields, layout (columns and rows), filters, graphics and output format (print, excel, pdf, etc). Each time you create a new report, you can add it to the favorites so that it's available when you next access it.