Benefits of Upgrading
Upgrading to Unit4 Business World On! offers multiple benefits to your business, users, IT team and system administrators. Your organization will experience greater value from the latest capabilities, updates, technical improvements, and workflow innovations released since the last update.
Empowered Finance Planning
Lesser manual routine work and focus on higher-value activities.
Smart Teamwork
Less time-consuming tasks and more productive project teams.
Successful People Management
Less rigid structures and support employee career growth.
Enhanced user experience
Latest mobile technology and Unit4 App enhances collaboration opportunities.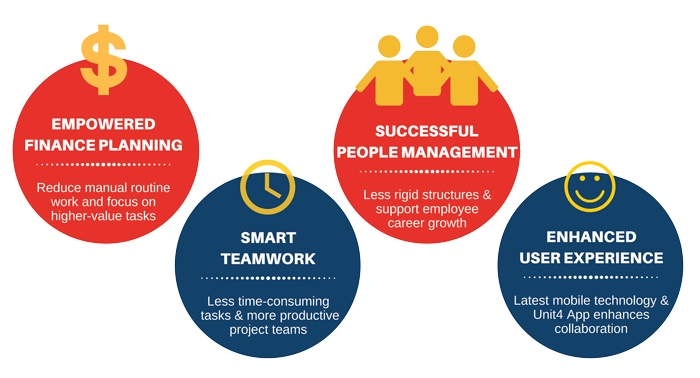 3 Upgrade Programs
GCON4 offers 3 different upgrading programs that will match your requirements:
Like for Like Upgrade
Fastest route to upgrade your software. Minimal changes to your existing configurations with no additional functionalities.
Superior Capabilities
Gives your business a new edge by applying selected module enhancements such as experience packs that provide additional benefits.
Superior Business Processes
Implement new modules and optimize your processes to obtain significant business and performance improvements.
Why Upgrade With GCON4?
Global Official Partner of Unit4
Highly competent consulting team with more than 30 years of accumulated experience
Multi-languages ready: English and Spanish
Global implementation projects and clients
Innovator of the indispensable tool GCON4 MFL that helps to significantly reduce the time to perform data migration & maintenance of Unit4 Business World.
Find out more
Whatever doubts you have about upgrading, GCON4 is happy to help. Contact us today for a no-obligations discussion.